Sonoma County

Office Cleanout Services

Cleaning out an office can be a difficult task to handle alone. When you call Overland Hauling to get the job done, it becomes easier than ever!
THOROUGH OFFICE JUNK REMOVAL IN SONOMA COUNTY
Overland Hauling & Junk Removal makes choosing a company for office cleanout services a breeze. We haul, disassemble, and break down office furniture as needed because we've done this sort of work time and time again. We'll get the job done carefully without any hang-ups! Give us a call to get started on your commercial junk removal project today!
Why Our Office Cleanout Services?
It takes more than muscles to clean out an office. Sure, heavy lifting is a big part of the process, but sometimes, specialized steps are needed. Consider file cabinet removal, where someone will have to take apart the cabinets before hauling them all away. In a similar vein, cubicle removal requires the right tools and disassembly knowledge—otherwise, they're not going anywhere. Luckily, you don't have to go searching for those tools to get the job done because we'll bring them along us.
Another thing you'll love about us is that even when the work gets tough, we won't lose our positive attitude. We believe that every job we take on is a golden opportunity to prove our worth to someone new. That's why we strive to provide you with fast, friendly services regardless of the circumstances. We also aim to be affordable, too! Our volume-based prices make it so you only pay for what we haul. There are never, ever hidden fees making our office cleanout services a more afordable option than most franchises!
Donating Your Reusable Office Furniture
Here at Overland Hauling, we value practicing eco-friendly methods of disposal to keep unecessary junk out of our landfill. After all, there's no point in dumping that stuff if it can be recycled instead. In many cases, we can even donate your unwanted office supplies. As long as they're still in good, useable condition, they'll make for great additions to the local Habitat for Humanity ReStore.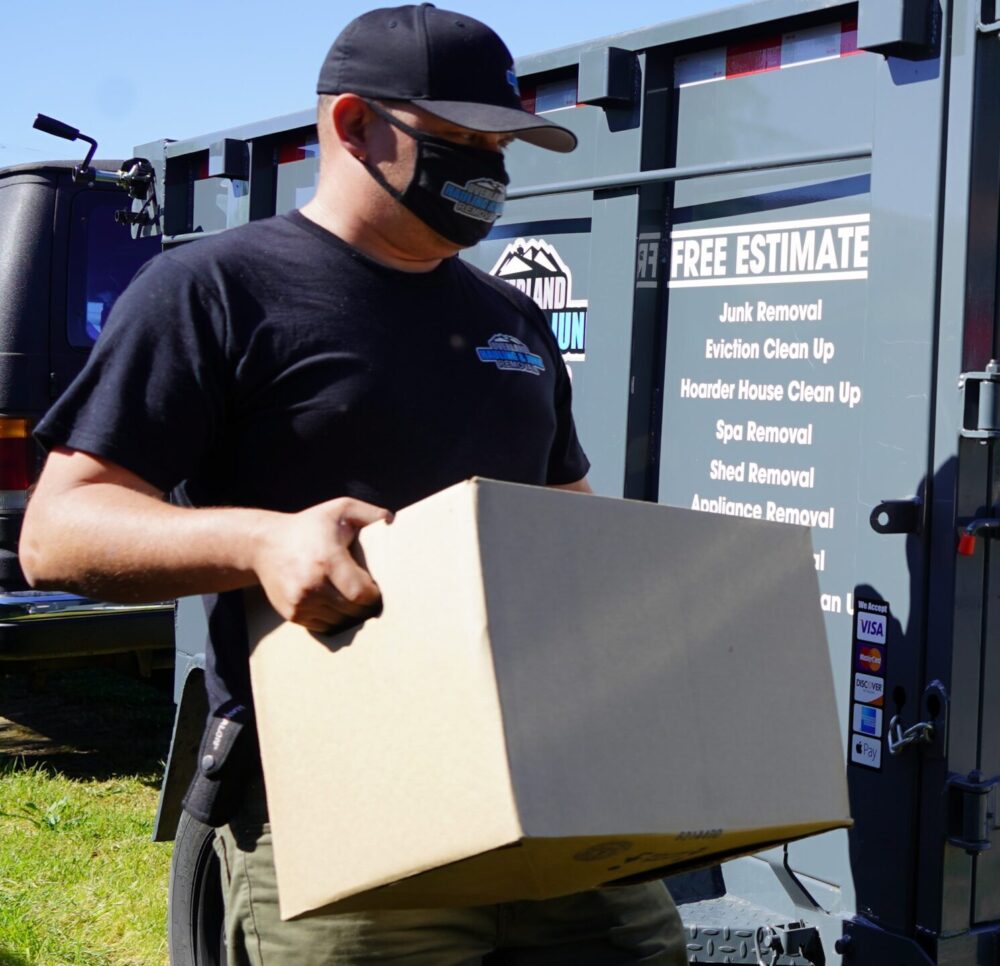 Our Office Cleanout Process
It's likely that your office has lots of junk for us to remove. Because of this, we'll make sure we have plenty of truck space, as well as a full team, before we head over.
Upon our timely arrival, we'll introduce ourselves to you, check out all the office junk, then provide you with an upfront quote. Know what you owe us before we start!
Removing junk is what we do each and every day. That's why you're free to deal with other responsibilities while we clean up all the clutter for you.
Now that your office is junk-free, we'll sweep up, make sure we didn't forget anything, and accept your final payment. Wasn't that a breeze?
Office Furniture Removal in Sonoma County, CA
Offices are full of heavy furniture, ranging from computer desks to meeting tables. It doesn't take a rocket scientist to figure out that these items require more than one person to move. However, you're only one person, and your office workers aren't being paid to do physical labor. Because of this, if you need fast and affordable furniture removal, Overland Hauling & Junk Removal is the team for you.
We will carefully lift the furniture on either side and get it out of the office building without nicking a single wall along the way. If you are replacing your old furniture, then we can help by moving the new stuff in once we're done. All it will cost is an additional labor fee. We'll always disclose any extra charges before they come into effect. That way, you never stumble upon any unfair pricing surprises.
About Us
Overland Hauling & Junk Removal isn't your typical junk removal business. We're a locally owned and operated company that believes our neighborhood clients deserve a little more. We're talking about more saved time, more saved money, and of course, more smiles. We'll provide all these things to you because we're your community's #1 source of fast, affordable, and friendly services. You'll be supporting a local business in the process, so what's not to like?
What Our Customers Have to Say