Sonoma County

Construction Debris Removal

Why leave a mess behind after a hard day's work? Overland Hauling provides affordable construction debris removal that keeps your clients happy! Call us today.
Renovation Construction Debris Removal Services
As a contractor, you have a lot on your plate so, when you leave renovation debris behind at a job, it can be a red flag to the customer, possibly leading to a poor review. Instead of putting in all that extra time and effort cleaning it up, though, you can call us for construction debris removal! Overland Hauling is a multi-faceted, full-service junk removal company providing both residential and commercial junk removal services. Our crew is always here and ready to haul away construction debris, even on short notice!
Why Us for Construction Debris Removal?
At Overland Hauling, we're committed to exceptional service and affordable rates. Not only are we professionals providing full-service clean up, but we prioritize safety over everything. You can count on us to safely move through your piles of debris equipped with gloves, work boots, protective eyewear, and more. Alongside safety, we value your satisfaction, too! We'll ensure that you're comfortable with the cost before we even begin.
As a locally-owned company, we're on your side. Instead of overwhelming you with extra, unwanted fees, we stay true to your upfront price. Our volume-based pricing ensures that you only pay for the amount of junk you want us to take. In fact, the construction debris removal cost for larger jobs is almost equivalent to that of a dumpster rental. Because there are many restrictions that come with renting a dumpster, you might want to consider choosing a team that will save you both the hard work and money.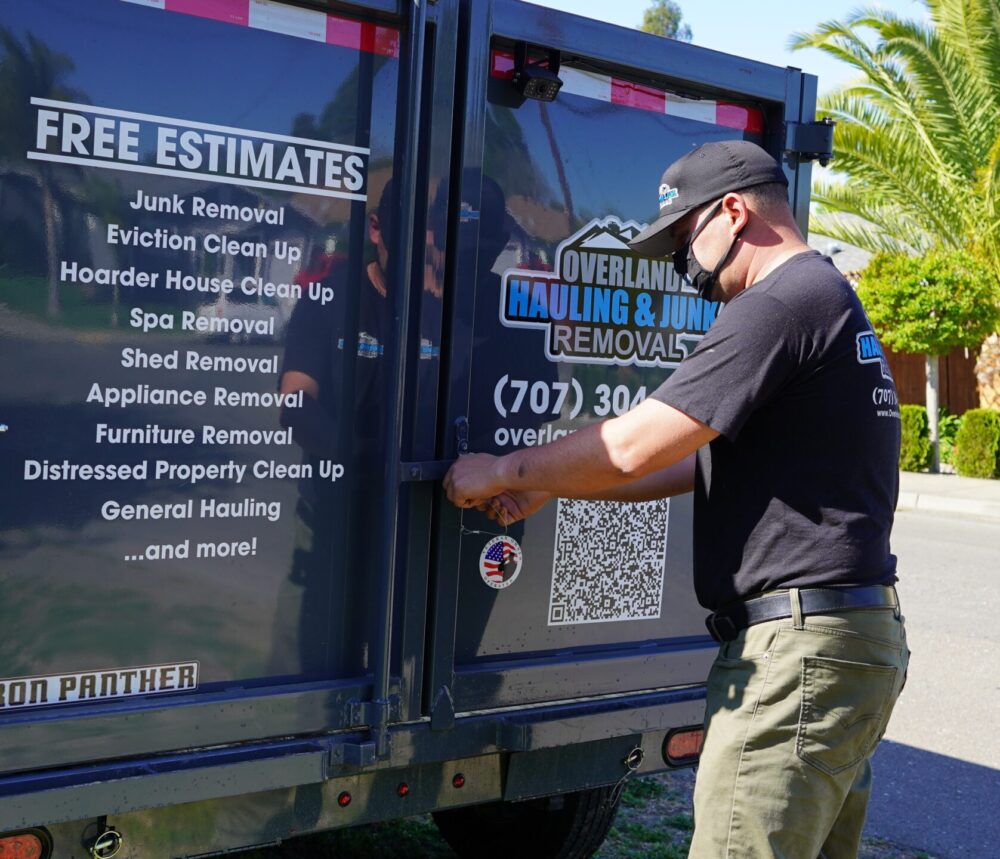 Our Construction Debris Removal Process
First and foremost, schedule your appointment! You can call our office anytime and give us a time that works for you.
Then, our experts will be in touch with you. After gaining an understanding of your needs, we'll offer you a free pricing estimate.
When it's time for your appointment, expect our crew to arrive on time! we'll kindly ask to see your construction debris before giving you a firm quote.
 Satisfied with our price? All you have to do is approve your quote! By doing so, you give our pros the green light to begin hauling. From there, just relax until check-out!
Demolition Debris Removal and Disposal
Have you recently undergone a demo project for one of your clients? If so, there's a solid chance that the project left you with a mess. Yes, you can clean it up yourself, but think of all the valuable time that can consume! Additionally, you'd have to worry about how to dispose of everything, which is a challenge in itself that calls for research. If you neglect the mess, on the other hand, you might be facing an unhappy customer! At the end of the day, the ideal solution to demolition debris is our full-service construction debris removal. Our guys will clean up all that debris super quick and dispose of it responsibly- all at a reasonable price that you can afford!
Here's what to expect from our crew. Upon arrival to your appointment, they'll confirm your total price before all else! Then, they'll get your approval on that price and tackle the demo debris cleanup. Rounding up all the different materials separately, they'll expedite the removal and disposal processes! Before you know it, every last piece of construction debris will be swept up, out of sight and out of mind. After receiving your payment, we'll head out to recycle as much debris as we can!
About Us
Call the construction debris removal experts at Overland Hauling for service that doesn't miss! We're a local veran-owned company that puts our customers first. Making sure to check every box throughout your service, our guys get your job done right! With plentiful experience in many junk removal projects, our crew is always open and ready to accomodate you! Plus, we're always available and prepared to tackle the services that you need. Based in Windsor, CA, we serve areas all over Sonoma County. Of course, that goes for Santa Rosa, Cloverdale, and your neighborhood, too! Don't forget that we're just a call away, in case you need to confirm whether we cover your location.
Construction Debris We Take
What Our Customers Have to Say