Furniture Removal Services
If the thought of having to carry around your own furniture makes you roll your eyes, then it's time for you to contact Overland Hauling & Junk Removal. Our pros have prepared for the day we haul away your furniture, so don't keep them waiting any longer. Give us a call so you can see what we're all about!
FURNITURE REMOVAL SERVICES IN SONOMA COUNTY
Just about any Sonoma County property you look at has furniture inside of it, including homes, businesses, apartments, and so many more! However, just as someone had to move that furniture in, someone will eventually have to move it out. So if you don't want to be the one to do the heavy lifting, contact Overland Hauling & Junk Removal. Our furniture removal services are done by professionals that can carry your heaviest furniture safely and quickly!
What's nice about our team is that they know how to remove your furniture without causing any hassles. We won't track dirt through the house, nor will we bump the furniture against any walls, floors, or doorways. We'll get the job done perfectly, so you won't have any complaints. We think you'll have plenty of nice things to say instead!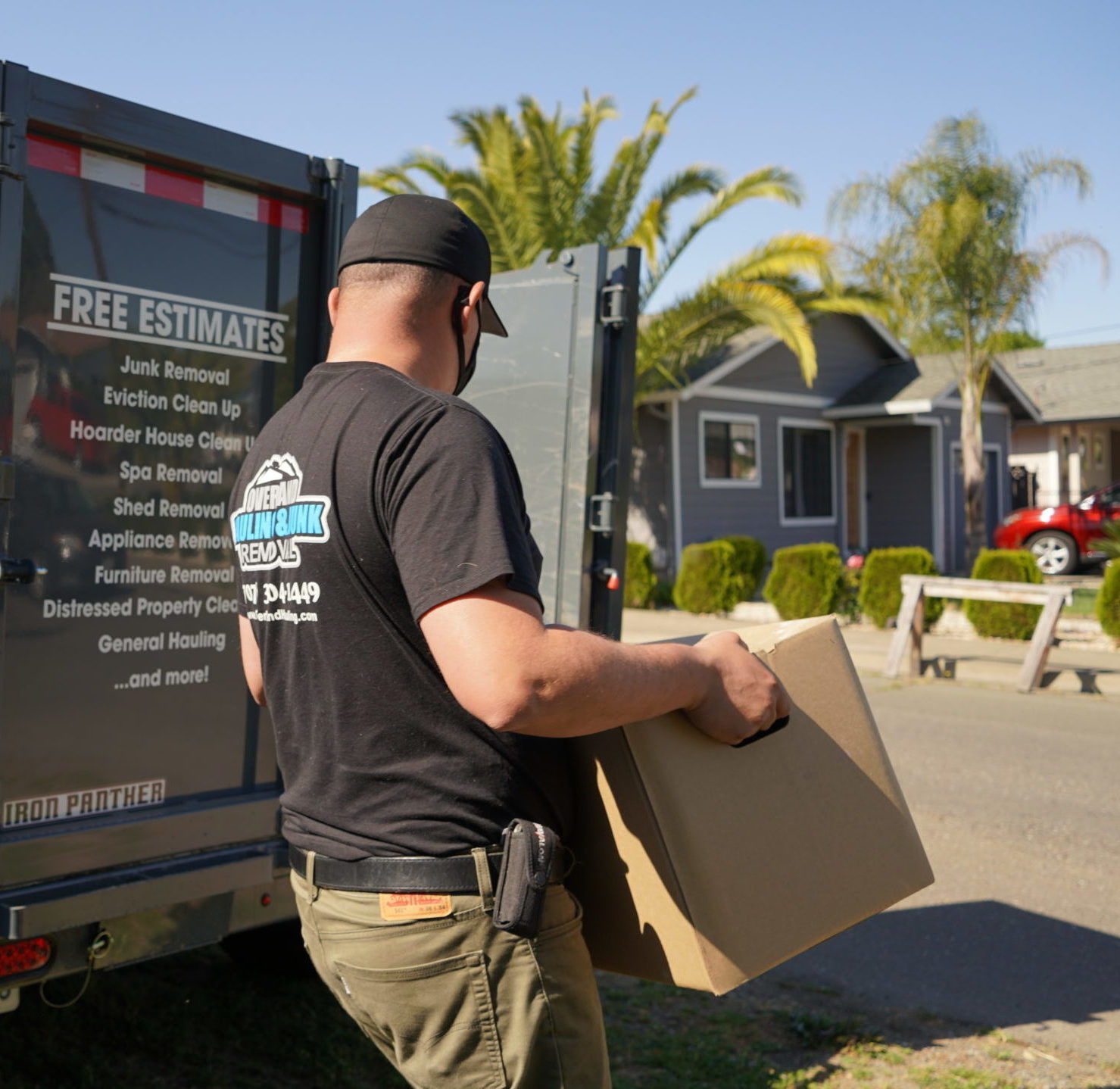 Why Us for Furniture Removal?
Get rid of furniture without even getting out of your chair when you contract with the crew at Overland Hauling & Junk Removal. You can trust our full-service team to finish the work to your satisfaction because we've seen it all when it comes to old furniture. From wardrobes and dressers to desks and entertainment centers, when you've got it, we'll haul it. Our team has gotten strong from the many furniture removal jobs they've taken on, so there's nothing that's too heavy for them to handle!
Our furniture haul away services are reliable because not only do they give you good results, but they also save you time and money. We work quickly, and what's more, we provide same-day and next-day appointments. Additionally, you'll always receive an upfront, volume-based quote during your appointment. That way, you know what you owe us from the get-go. You can even request a free estimate when you either contact us online or call us at 707-304-1449.
On the day of your appointment, you'll meet our professional team for yourself. They'll be glad to see you, and additionally, they'll have plenty of truck space ready for your old furniture. You won't regret asking us for service because we'll treat you with kindness and respect from start to finish. The free space we leave you with is pretty neat, too!
Our Furniture Removal Process
We'll be there on time with an empty truck and a team that's done their warm-ups so they can handle the hard work ahead of them.
Lead us to the unwanted furniture, accept our upfront service quote, then do whatever you want as we handle the heavy lifting.
We'll take care when hauling the furniture so that we don't cause any damage while making our way to our junk removal truck.
Finally, we'll need to handle the furniture disposal, but we'll actually donate as much furniture as we can to reduce waste.
Old Sofa Removal in Sonoma County, CA
Overland Hauling & Junk Removal removes sofas of all shapes and sizes for our clients because we understand that yes, these are heavy pieces of furniture! We doubt that you could remove the sofa on your own, and wrangling up all your friends and family can be a pain, too, so we'll provide you with our help as soon as possible. Once we're on site, just show us the sofa, whether it's a love seat or an entire sectional. Then, we'll ask for the help of as many of our employees as necessary to ensure an incident-free removal. We've got enough hands on deck to guarantee that your sofa won't be dropped, dragged, or bumped against anything on its way to the door.
We remove sofas from residences and businesses alike, so whether your unwanted sofa is in the living room or the office lobby, then we're ready to take it. Additionally, if you have a new sofa that you intend to replace the old one with, we can help move it in. All it will cost is an extra labor charge which we will disclose to you upfront. At Overland Hauling & Junk Removal, there are never any surprise surcharges or other "underhanded" pricing tactics.
About Us
Overland Hauling & Junk Removal is a veteran-owned business that has always seen the value in our neighbors, community, and country. It's why we offer discounts for veterans, and it's why we work hard for our customers—because exceptional service is what we've always done. Because of this, we've earned a reputation for giving our clients good prices and fast results. Looking to get rid of a mess for good? Then give us a call, because we'd love to meet you, haul away your junk, and earn your five-star review.
What Our Customers Have to Say