Dumpster Cleanouts In Sonoma County
Do you have a dumpster that has seen better days? Overland Hauling and Junk Removal provides efficient removal and eco-friendly dumpster services. Contact us today for exceptional dumpster cleanouts in Sonoma County.
Dumpster Cleanout Services Made Easy & Hassle-Free
We all have a dumpster that has seen better days. As dutiful as dumpsters are in waste management, they can become a magnet for all sorts of unwanted items over time. From construction debris, old appliances, and furniture to kitchen waste, dumpsters provide a convenient solution to bulk waste disposal. However, once they are full, they take up space, accumulate unwanted items, and, even worse, become an eyesore and a potential headache.
Filling up the dumpster is easy, but taking it out can be daunting. When you live alone, dealing with a dumpster is even harder as you have no one to force it on. You have to do the heavy lifting, sorting, and disposal logistics yourself. Plus, it can be irritating and time-consuming. That's why our dumpster cleanout services are the perfect solution.
We prioritize your convenience and satisfaction. So we will work our fingers to the bone to ensure we leave no trace of the clutter that once occupied your dumpster. You can count on our dumpster services to leave your residential property looking clean and we will responsibly dispose of your waste.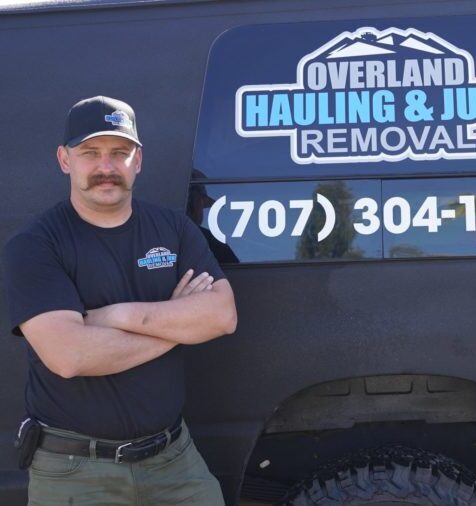 Why Choose Us For Your Dumpster & Waste Management Services?
Overland Hauling & Junk Removal sits at the top of the list of the best dumpster cleanout services in Sonoma County, CA. We are not your regular trash pick-up company. No, not at all. We consider ourselves waste whisperers and dumpster superheroes. Indeed, our team or dumpsters may not wear capes, but they are well-equipped to make your waste disappear at turbo speed.
We are talented in handling waste of all kinds, be it yard waste, household junk, construction debris, or anything big enough to fit in or around your dumpster. We've got the know-how to manage it all.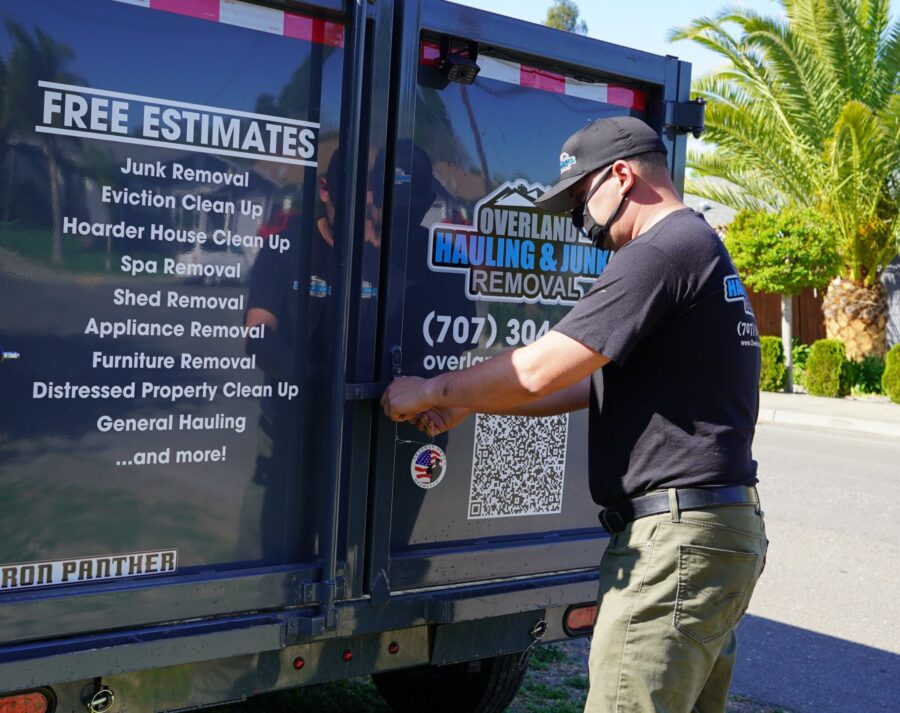 We Will Cleanout Your Dumpster
What you'll find most satisfying, however, is our attitude to work. We take our job very seriously, but we are not one to frown or appear discontent while at it. Our disposition towards our clients is highly important. Thus, we are a team of polite, pleasant, and sometimes humorous individuals. We are also very transparent in our pricing. We do not overcharge or offer unfriendly prices.
As a plus, our top-of-the-line dumpster for house clean out team is based in Sonoma County. We are local legends who are very familiar with the unique waste removal needs of residents of the area and the regulations that accompany our activities. So whether you are based in Santa Rosa, Windsor, Petaluma, or any of our service areas in Sonoma County, we've got your back. We will ensure that your waste is handled with utmost care and compliance.
Our Step-by-Step Dumpster Cleanouts Process
Consultation – Every good thing starts with a conversation, and so does our

dumpster cleanouts

process. We begin with a friendly, no-obligation consultation, discussing your needs, the dumpster size you require, and any special requests. To consult with our team, call us at

707-640-2694

or interact with us via our on-site

contact form

.

Dumpster Delivery – After we've got all the details, we will show up at your residence on the agreed date, ready to offer premium

dumpster services

. We will look at the dumpster's size to determine the

truckload size

. We will provide a transparent quote upfront, depending on the estimated truck load size.

Trash Taming – After settling the price, we will work on your junk pile. We will efficiently put our waste management skills to good use, sorting through the trash and setting aside materials that can either be recycled or donated. We will only leave after ensuring your residence is clutter-free, and you're satisfied with our

dumpster cleanout services

.
Experience Our Residential Yard Waste Removal
You know those tree stumps in your yard, the ones you seem to bump your leg against occasionally? Now close your eyes and imagine those once-dominant tree stumps vanishing from your yard. Satisfying, right? Well, don't just stop at imagining. Overland Hauling & Junk Removal can make it happen.
Our dedicated team is well-versed in dealing with stubborn stumps, leaf piles, and other yard waste removal services that you might need. We will utilize state-of-the-art equipment such as stump grinders, leaf blowers, lawnmowers, and the like to ensure a safe and efficient yard cleaning, leaving it safe from wood chips and other debris.
About Us
Overland Hauling & Junk Removal is a waste management service founded by Dan Dempsey in 2020. With a knack for effective and affordable junk removal and experience as a military veteran in the trades and transportation industries, Dan built a brand to provide premium residential and commercial trash clean-up services.
Our goal is to ensure that residents of Sonoma County enjoy hassle-free dumpster cleanouts with each disposal. We are also very supportive of the community, which reflects in our discounts for veterans and seniors and our donation of furniture and appliances retrieved from our client's dump.
What Our Customers Have to Say